Yuhan University acquired international standard ISO 21001 educational…
Page Information

Writer
saminil
Comment
0Times
Lookup
2,758psc
Date Created

20-08-07 18:40
Contents
Yuhan University acquired international standard ISO 21001 educational institution management system certification
[중앙일보] 입력 2020.08.06 14:31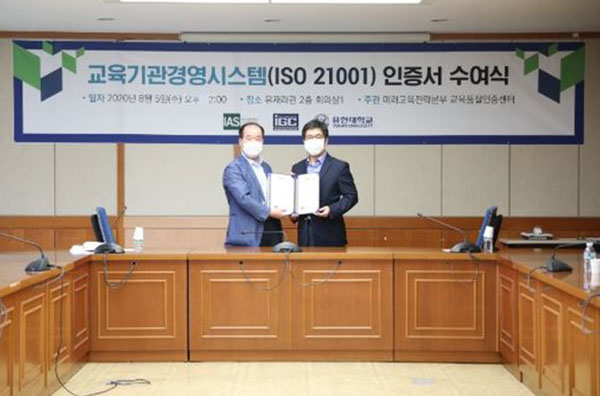 On the 5th, Yuhan University (CEO Hyunjoong Kim) obtained the international standard ISO21001 Educational Institution Management System (EOMS) certification and held a certificate conferment ceremony
[Photo] CEO of IGC Co., Ltd. Dr. Gill-Taik (left) CEO of Yuhan University Hyun Joong Kim (right)
ISO21001 is a standard established for educational institutions by the International Organization for Standardization. It is a management tool for organizations that provide educational products and services, and education aims to increase the satisfaction of learners by meeting the needs of education consumers. Provide a specific framework for the institution.
CEO Hyunjoong Kim said, "Because of Yuhan University's spirit of returning to society and the establishment of an education system optimized for education users, we were able to obtain ISO21001 certification. "Even after being selected as a self-improving university, our university has continued to strive for innovation. With this accreditation, Yuhan University will present a model of a standardized educational institution and a model of an educational institution differentiated from other schools, and endeavor to cultivate faithful human resources and develop the local community, which is the mission of the university."
Meanwhile, Yuhan University was recently selected as a self-improving university, a high-skilled day-learning parallel system operating institution, socially tailored industry-academic cooperation leading junior college (LINC+) fostering business, specialized vocational college fostering project second-stage support university selection, employment guarantee type Unitech. It is recognized as a working-oriented university both internally and externally for alleviating the financial burden of students and wide support due to the selection of training programs.
Online JoongAng Ilbo
[Source ]
JoongAng Ilbo : Yuhan University acquires international standard ISO21001 educational institution management system certification
Comment list
There are no registered comments.